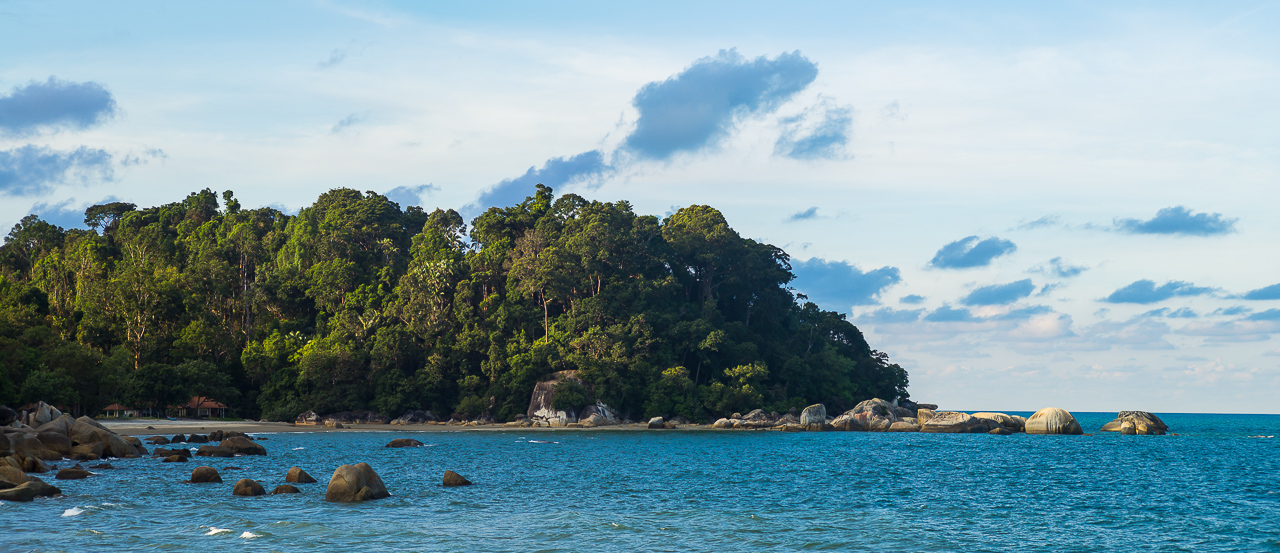 Teluk Chempedak, panorama photo from two 90mm shots, sunset...

Since it's the east coast, the sun sets on the other side, behind a mountain ridge (you can see the shade of the mountains creeping up on the trees in the photo), so you won't see any spectacular sunsets over the ocean... from this beach the sunrise and the moonrise will have to do...

...

Thu, 16 June 2022
Because, of course it was not about the resort (see
this snippet
). A resort that, despite the renovations - which I found to be a bit of a mixed bag (but let's not get into First World nagging) - was still very much the same.
No, it's about that beach, the laid back local people hanging out - enjoying their little piece of paradise - the monkeys, the moon rise, the ocean breeze, the breaking of the waves, the mountains in the background, carpeted with lush green jungle, walking over the beach through that warm sea water...
It's really a lovely spot, with absolutely nothing to do, other than enjoying the bliss.
Don't let renovations keep you away, would be the lesson I've learned.
...


Note that currently the walking bridge, all the way to the other beach - quite a nice attraction in itself - is closed. I'm not sure why, possibly maintanance issues due to two years of pandemic. I hope they reopen that part soon. It also limited the photo opportunities, so I might show some older photos in upcoming snippets from that now closed vantage point...

Leica M-D with Leica Tele-Elmarit 90mm f/2.8

Malaysia - 13 June 2022