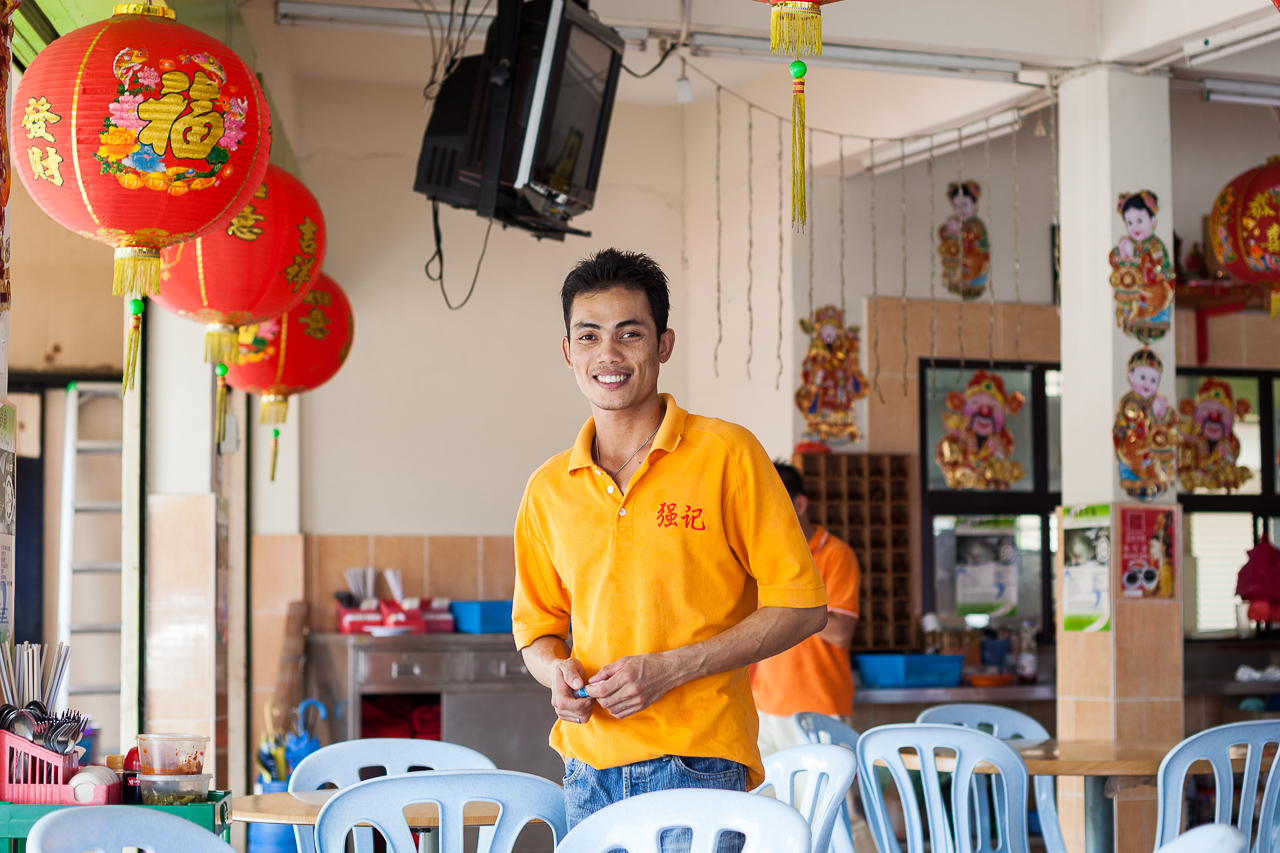 ... to the 'foreign worker'...

...

I took this shot in a restaurant close by, back in 2010 (time of writing: 2022). It was called Kiong Kee, but I insisted on calling it Kee Kiong, which sounded nicer to me and for some reason rolls off the tongue easier.

The waiter in the photo was working there and he wasn't Malaysian. You see that a lot here: foreign workers (possibly illegal) in the jobs Malaysians prefer to ignore (not much different in the west by the way). They earn minimum wages (if they're lucky I guess) and from the bits and pieces of information I could gather, their life is harsh... I mean, it's everywhere the same, isn't it? When you're regarded the bottom of the barrel in a society, you're definitely not gonna be treated as royalty.

Since we were regulars at Kee Kiong, I started noticing his ever present smile and friendliness and got curious, but language barriers... E. also lucked out. E. speaks languages I've never managed, and obviously the local ones, but our waiter wasn't ready - perhaps arrived only recently in Malaysia - and only spoke his own language. And back then, in 2010, we didn't have the translation apps (the smartphone was on the rise but not yet very common) or the connectivity to help people out in those circumstances. We did manage to figure out he was from Myanmar. I'm not sure if we exchanged names. Quite possibly, but now, in 2022, I can't remember. I do remember E. jokingly refering to him as my 'special friend'.

One of the following days I asked him if I could take a photo of him (the asking must have been mostly hand signs), and he happily agreed (which led to the above shot).

Both him and me then had to battle through a colleague of him interfering - which in itself was sort of funny I suppose...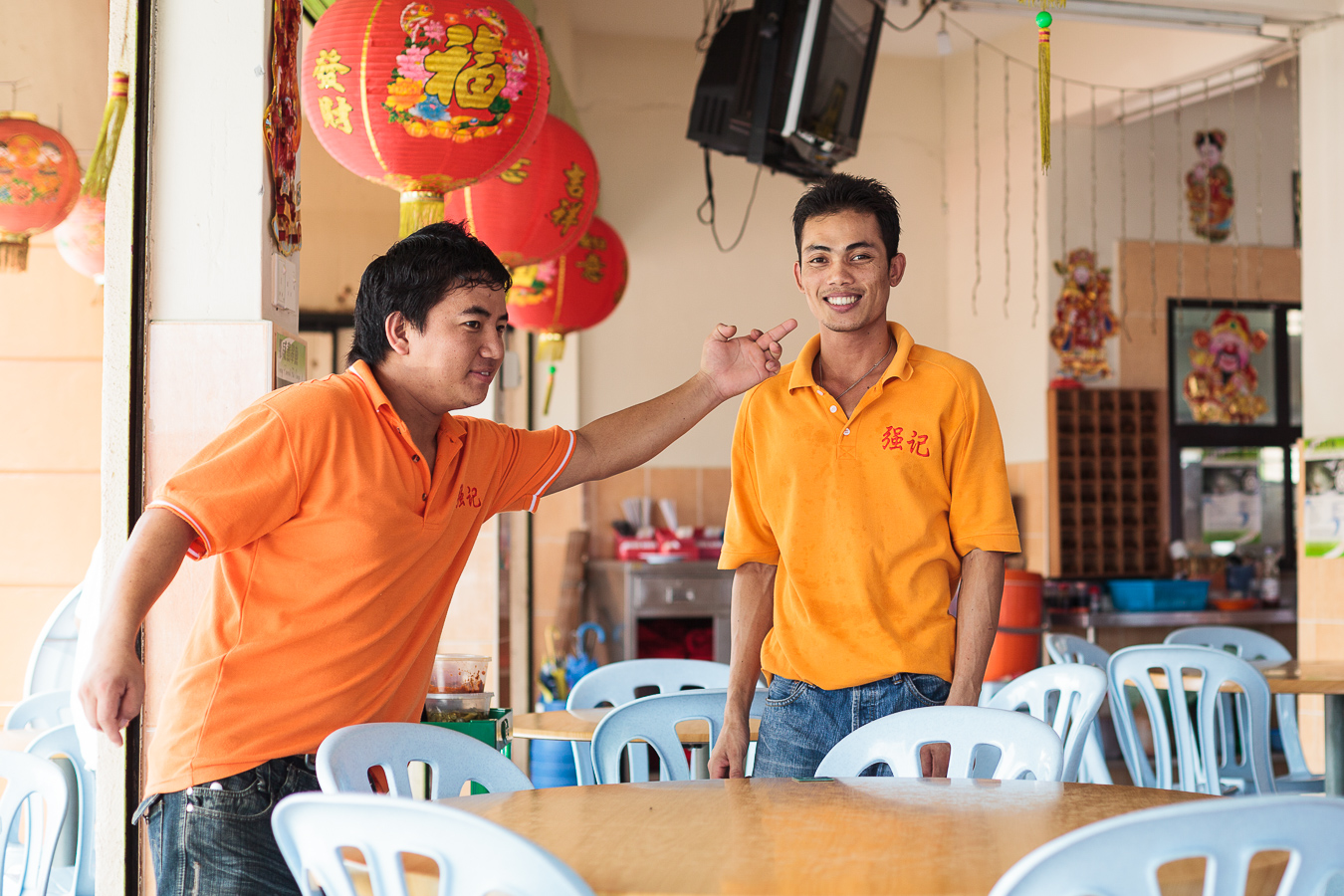 My special friend didn't care. He kept smiling and focusing on the camera...

After looking at the results, I thought it would be a nice gesture if I printed the photo (the first one) and then give it to him. It wasn't anything special or even a good portrait, as you can see, so I turned it into this one for the print...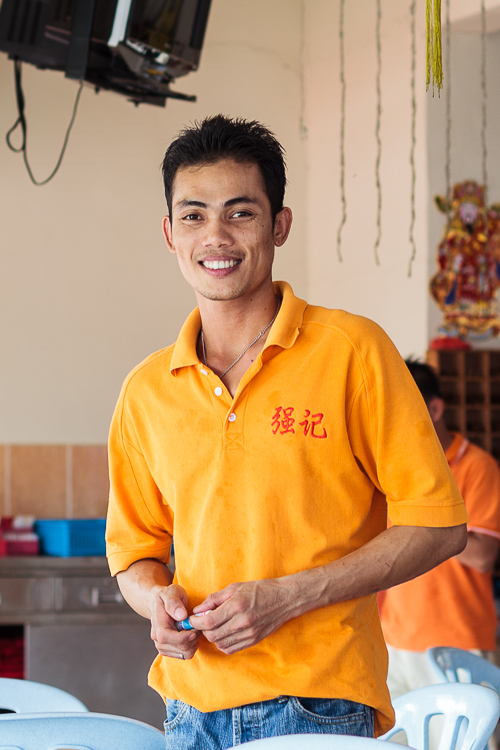 When, at our next visit, I handed it to him, his reaction was unexpected: he was absolutely elated; over the moon, with what to me just seemed a mediocre photo of a nice guy. He ran off with it to show it to all of his colleagues, and I felt almost embarrassed about him being so happy with so little. Could it be possible he had never seen or held a real photograph of himself? Or any photograph at all? I didn't know and I couldn't ask, seeing the language problem.

It was probably the most surprising and endearing response I ever got to one of my photographs and it's the main reason I still remember this occasion...

...


When I returned to Malaysia, the next time around, my special friend was gone. Another job, one of his colleagues knew, somewhere in Kuala Lumpur. I hope he's doing well.

Kee Kiong closed down, during the pandemic. The space turned into a health clinic (how ironic...). Another one of those life thingies I suppose: nothing stays forever...

The foreign workers are still here. I can't change their plight, just treat them with the dignity they deserve.



Canon EOS 5D Mark II with Canon EF 50mm f/1.4

Malaysia - 31 May 2010